Classes
Term 3, 2022 Classes commence 25th July.
Can't attend class? Zoom options available or head on over to 'Online Training' for alternative options.
 Class Options
Mums & Bubs Classes – Tuesday's at 10:00am, Thursday's at 9:30 – Mornington
PortFit Outdoor Classes – Wednesday's at 6pm – Sawyers Bay – ON HOLD OVER WINTER – See you in SPRING
Spaces are limited. If you would like to join throughout the term, please get in touch for availability.
Mums & Bubs
Improve your energy, strength and fitness in a fun, safe and supportive environment, whilst looking after your core and pelvic floor.
Designed to help you carry baby, push the pram, lift car seat/capsule with ease and without pain.
10 classes per term.
Access to Empower Me Fitness Members Facebook Group.
ACCELERATE your progress with added accountability & motivation with home workouts and a term challenge.
Zoom options available.
Cost: $180/term
Tues 10am & Thur 9:30am. Click 'Enrol Now' to enrol for Term 3. Interested in starting later in the year? Click 'Join the waitlist' to register your interest.
Thurs 10:30am – TRIAL CLASS 30th June. Click 'Enrol Now' to register. 
PortFit
Improve your energy, strength and fitness without having to venture into town.
Fun, varied workouts in a supportive and encouraging environment.

Access to Empower Me Fitness Members Facebook Group.

ACCELERATE your progress with added accountability & motivation through weekly home workouts and a term challenge.
Wednesday's 6pm – Sawyers Bay School
Cost: $10 per class
Enrolment form must be completed prior to attending classes
Why come to class? Here are 10 reasons why:
Coming to class is a great incentive to get out of the house & get some exercise.
Whether you have had 2 hours sleep or 12 (highly unlikely but a girl can dream can't she?), I guarantee you will feel better.
Classes are programmed in a way that is tailored to what mum's need – a mix of strength & cardio based exercises in a fun environment.
The strength training we do aims to help you to pick up & carry baby with ease, carry the baby capsule from the car to the shops, lift the pram into the car etc etc, all the physically demanding tasks of motherhood with ease & without pain 
It gives you an opportunity to move your body in a safe way and feel good.
The exercises are easily modifiable depending on your energy levels on the day. 
You will meet other awesome mum's & have baby close to you to attend to their needs (changing, feeding etc) as required.
Exercise can help you connect with your postnatal body
Exercise has been shown to improve your mental health
I also offer free baby hugs & pram rocking for the babies that need a bit of extra attention whilst you workout.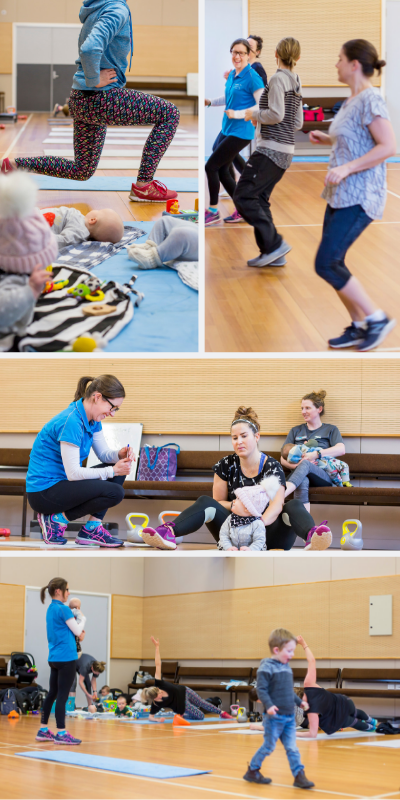 Classes are run based on the school terms, generally 10 weeks in length (however, you can start at any time during the term if space available). Payment is made up front for the whole term.
2022 Schedule
Term 1 – 7th Feb to 15th April
Term 2 – 2nd May to 8th July
Term 3 – 25th July to 30th September
Term 4 – 17th October to 23th December
Frequently Asked Questions
Do I have to wait until the start of term?
No. If there is space available, you can start at any time during the term.
What do I need to bring to class?
All equipment is supplied so all you need to do is bring a water bottle and anything to make baby/toddler comfortable. I supply mats with blankets/toys, but feel free to bring your own. If baby is asleep or happy in a pram/capsule, there is plenty of space for these in the hall.
What do I wear?
Comfortable clothes to workout in & a supportive bra. Your breasts can change quite a bit during pregnancy & breastfeeding and often mums realise the extent of this when they start moving, so a supportive bra will make you feel more comfortable.
What if I miss a class?
Your baby is sick, you have had no sleep all night, you have an appointment…. It is a possibility that you may need to miss a class during the Term which is totally understandable. All I ask is that you reply to my weekly text just to let me know if you can't make it. You can join the class via zoom, or watch the replay at a later time. 
Can I try a class before committing to a Term?
Not sure if these classes are for you? You are welcome to come along to a class to see what its all about. A trial class costs $10. To trial a class you will still need to complete the enrolment form & then just get in touch (email/phone) to confirm the date.
What about Covid?
We are following the Government and Exercise NZ guidelines to ensure we can run classes safely. This includes the following:
● Mask wearing at all times when not exercising
● Good hand hygiene
● Additional cleaning protocols
● Staying home when unwell and following public health advice regarding testing and
isolating.
If we cannot run classes in person, classes will be held via zoom (if well) or you will receive workouts to complete at home.
If you are unable to attend due to having to isolate, you can access classes (and replays) via zoom and also access our Covid Isolation Survival Guide in the portal.