Next Postnatal Me event in:
Next Postnatal Me event in:
PostnatalME – Mum's health evening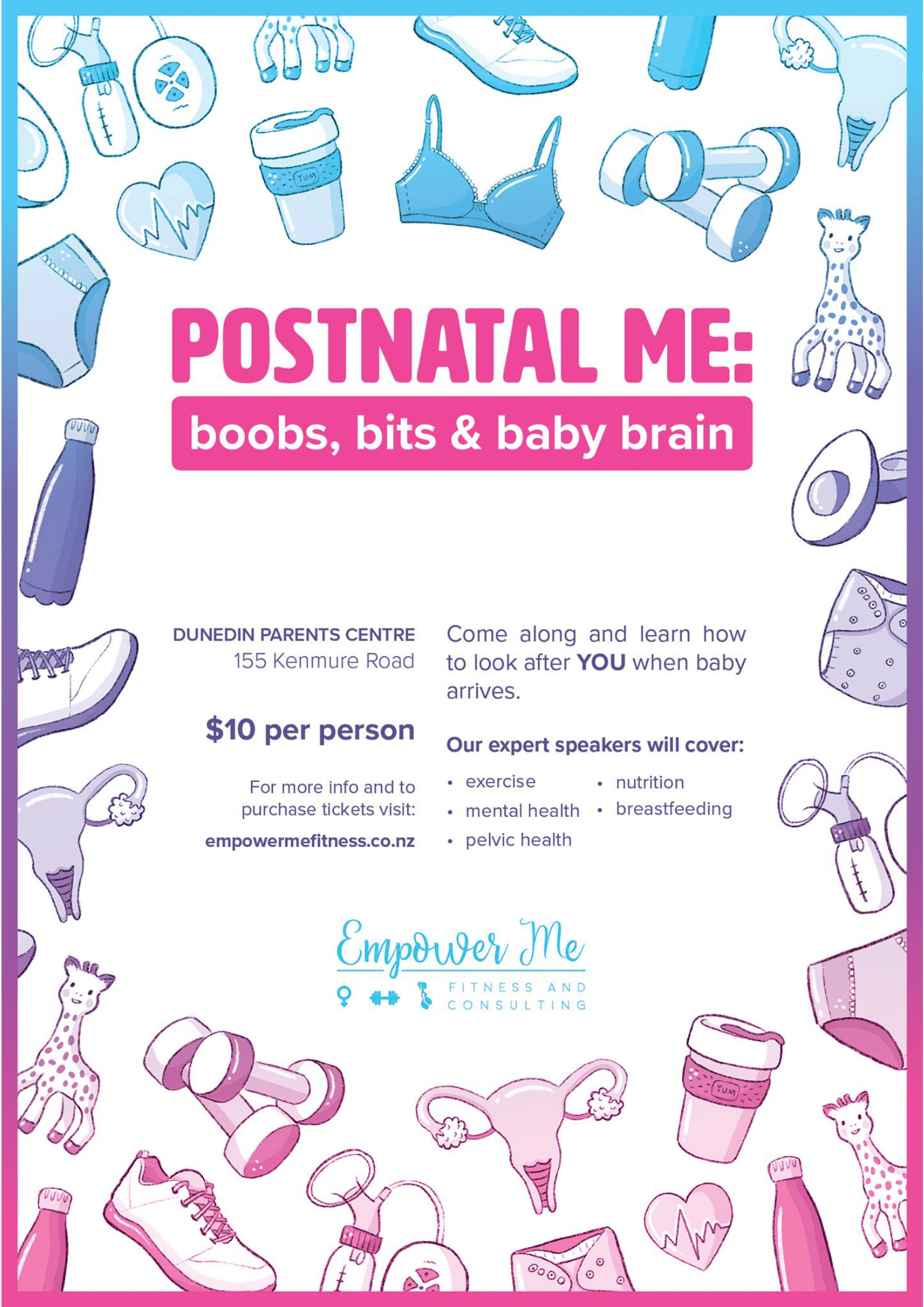 PostnatalME: boobs, bits and baby brain – A guide to health & fitness postpartum.
Taking care of yourself allows you to best care for your baby & family. This event aims to inform mums-to-be of how to look after YOU in the postpartum period (4th trimester).
From mental health to pelvic health and everything in between, learn about what you can expect and the things you can do to take the best care of yourself. Our expert speakers will discuss a variety of topics including safe exercise, mental health, pelvic health, nutrition, breastfeeding, changes to your body & contraception.
You don't need to worry about forgetting all this either, you will receive a pack on the night with all the relevant resources to help you seek out any help you may need following birth.
Dunedin Parent's Centre
155 Kenmure Rd
Cost: $10
Tuesday 20th April 6:30-8:30pm
Speakers:
Caren Van Gastel – Fitness Professional specialising in Pre & Postnatal exercise. Caren will be talking about how to safely get back to exercise after having a baby as well as providing information regarding breastfeeding. Caren will also discuss Nutrition habits and food choices.
Jenna Paton – Fitness Professional specialising in the Pelvic Floor. Jenna will be talking all things Pelvic floor.
Liz Williams – GP specialising in Womens & Sexual Health. Liz will be speaking about normal postpartum body changes, contraception and sexual health.
Sarah Noble – Mindset & Mindfulness Speaker, Writer & Mentor. Sarah will talk about how to optimise your mental health postpartum.
Sarah Cameron – Plunket Nurse. Sarah will be talking about how Plunket supports new mums.